Water Damage Restoration West Wyoming – Jackson, Star Valley, & Afton, WY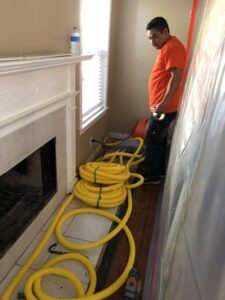 There's no need for waiting when water damage emergencies happen on the spot, you need restoration services now not later in West Wyoming. It takes a few seconds for water to find its way around every square inch and drown everything in sight.
What makes water complex is the different types of water that have different damage properties.
Sewage water can be toxic to your health
Fire damage water stains surfaces
Water plumbing isn't sanitary
Water condensation can be weakening to property structure
Pipe burst water behind walls can cause mold
And because water damages can happen anytime – we're ready to help 24/7. You can guarantee an arrival time of 45 minutes or less with 911 Restoration Utah. We provide restoration services to West Wyoming, Southeast Idaho, and its surrounding areas like Jackson, Star Valley, Afton.
Whether it be a frozen pipe burst from the Idaho winters or a flooded basement – leave it to the experts. Our water damage restoration workers are experienced and fully trained to deal with water damage and related problems. They do the dirty work and deal with the headaches so you don't have to.
West Wyoming Water Damage Restoration Services
While the fall and winter seasons in Idaho may be beautiful – the rain certainly doesn't help but tarnish your property. It's only a matter of time until rust, mold, and water damage begin to occur due to repeated moisture exposure. And as time progresses pipe bursts, plumbing problems, and basement flooding are bound to happen.
The 911 Restoration of West Wyoming understands time is the ultimate solution to fix water emergencies. That's why we guarantee our water damage experts to arrive at the scene within 45 minutes of your initial call.
Once our certified technicians arrive at your property – they will swiftly remediate the root cause of the problem. You will be provided a thorough assessment of current and potential vulnerabilities that need restoration. A complete dehumidifying process with advanced technology and equipment will also get your property dry swiftly.
It's our goal to restore your Jackson, Star Valley, Afton property to normal for a new beginning with a Fresh Start.
Mold Removal Services in Jackson, Star Valley, & Afton
Mold growth isn't like the other damages. What's uncertain about mold growth is the inability to see these dangerous spores with the naked eye. Mold infestation can be invisible in the air, hide in tight spaces, and spread at a rapid pace. And the infestation process begins the moment your water damage occurs in under 24 hours.
We don't recommend trying to save the day by riding mold growth on your own due to safety risks. You can expose yourself to respiratory disease, allergies, and headaches. The 911 Restoration of West Wyoming team is backed by years of experience who have stopped mold growth for years. Our mold remediation Jackson experts are IICRC-certified with the highest standards to be leaders in their industry.
Sanitization Services & Disinfection Solutions
The recent pandemic has taught us the importance of sanitary spaces across the globe. And disinfection has never been more important until today to stop the spread of deadly viruses and pathogens. Areas with high moisture from water damage spur the growth of potential threats to our safety.
Being a home or commercial property owner in Jackson, Star Valley & Afton is a big responsibility. As you are liable for all inhabitants within your property and their health. Thus it is important to make sure working, living, and commercial spaces remain sanitized to safety protocols.
911 Restoration of West Wyoming is trained with the highest standards in the industry to ensure safe customers. They follow IICRC, CDC, and EPA practices – ready to eliminate traces of unsanitary conditions.
New Beginnings Happen With A Fresh Start
Water damage is one of the major causes that pose a threat to you and your surroundings. And while it's not a fun situation to deal with – we're here to help guide you every step of the way. We'll clarify any questions you may have and will give you a free inspection on the spot upon arrival.
We promise we won't leave you drowning underwater alone. Instead we'll help you when it comes to your water damage restoration needs with:
Pipe bursts
Damaged fire sprinklers
Leaks and plumbing issues
Damage from natural weather and more
So call the 911 Restoration of West Wyoming to help with your water damage. You'll soon be on your way to a Fresh Start in Jackson, Star Valley & Afton!
Serving the communities of Star Valley, Jackson, Afton and surrounding area.