Sanitization & Cleaning Services in West Wyoming – Jackson, Star Valley, & Afton, WY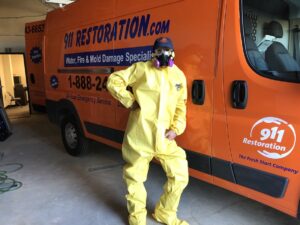 Sanitization services have played an important role around the world in recent times and especially in West Wyoming. The effects of a pandemic have impacted every person on earth – placing a big emphasis on sanitary spaces.
Property owners in West Wyoming, Jackson, Star Valley, & Afton areas have a big responsibility to ensure the safety of their surroundings. It's important to ensure all living and working conditions are protected to prevent the spread of disease. That's why 911 Restoration Utah is ready 24/7 to fight the war on unsanitary living conditions.
Our sanitization specialists in West Wyoming are certified to deliver the utmost standards in the industry. All sanitization and disinfection services are compliant with IICRC, CDC, and EPA protocols. This ensures you receive optimal care, results, and healthy space to live with a Fresh Start.
Sanitizing Services, Mold & Sewage Backup Cleanup in West Wyoming
Water damage on your property acts as an opportunity for mold to spread at a quick pace. Bacteria and harmful spores thrive on water as a breeding ground. Such areas include damp, dark, warm spaces, and virtually anywhere where water is present.
We don't recommend removing mold and water damage on your own for many reasons. You risk health and structural risks when leaving water damage unattended – which is a leading cause of mold growth. Some negative impacts of mold growth include respiratory illness, headaches, sickness, and lung disease.
Black water is the most toxic to the body. Known as sewage water – contains pollutants not safe to be near. A range of biohazards in sewage water contains chemicals, diseases, pathogens, and all sorts of biohazards.
If you have a flooding problem with sewage water – it is important to have a professional rectify the situation. The 911 Restoration of West Wyoming team is certified experts equipped with the right tools to tackle your sanitization needs.
Get Your Sanitization Services With A Fresh Start in Jackson, Star Valley, & Afton, WY
You don't have to let sanitization and water damage problems stop you from living a healthy and germ-free lifestyle. Because you can rely on our sanitization and water damage Jackson experts to guide you to cleanliness and safety.
We understand emergencies like water damage can happen at any time of the day in Jackson, Star Valley, & Afton. That's why we stand by our Fresh Start guarantee to be there within 45 minutes of your call. We mean it!
We'll work with you from beginning to end to make sure your property is nothing but short of perfect and sanitized.