Fire & Smoke Damage in West Wyoming – Jackson, Star Valley, & Afton, WY
Fire damage can happen at any time when you least expect it. Whether it be accidentally leaving the stove on, a change in climate, or an outdated electrical appliance overheating. Fires are unforgiving forces of nature that can leave your property diminished in ashes. While we hope that won't be the case for you – we're ready to put out any fire in Jackson, Star Valley, Afton and the surrounding areas.
Because a disaster can strike at any time – our fire damage restoration experts are ready at your call. An IICRC-certified technician will show up within 45 minutes the moment you give us a call to handle any fire crisis.
911 Restoration Utah serves the surrounding areas including Southeast Idaho.
About Fire Cleanup
Cleaning fire and smoke damage is not an easy task non-professional fire experts can manage on their own. We recommend hiring a fire damage restoration professional skilled to clean stubborn stains and messes from fires. Our fire damage experts are trained with the highest standards and protocols that will help you the whole way through.
They will help you with a full assessment of all damages that include the health of your property structure
If necessary – an evaluation of any burst pipes will also be inspected
We also don't advise you to clean fire damage by yourself for safety and health reasons. You can be prone to opening yourself to respiratory issues or injury from damaged items.
We'll take care of all the hard work for you to continue with your day-to-day activities.
Water and Fire Damage Restoration Company in Jackson, Star Valley, & Afton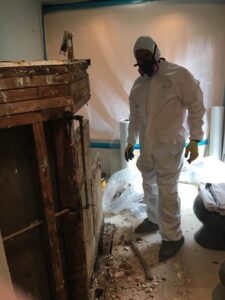 While water and fire may seem like two opposites – they go hand-in-hand when it comes to restoration services. Our fire damage restoration experts have seen how water and fire can negatively impact residential and commercial property owners.
When a fire disaster occurs on a property – it's important to seek safety first by leaving the premises. And while property owners value their property – it's common to use as much water as possible to abolish the flames.
Unfortunately – like fire too – water also harms residential and commercial properties. It is common to see dwellings, basements, or premises flooded with excess water during the aftermath. And that water finds its way through the slightest cracks – leaving room for vulnerability to commercial and residential property damage.
Water also mixes with fire damage from black smoke, powdery ash, or dusty soot. This creates a sludge-like tar that stains all surfaces it adheres to. This is not an easy task to clean. Our certified technicians know how to administer fire damage restoration with advanced cleaning methods from experience and high-quality training.
Permanent Smoke and Odor Removal Services
Fire damage also opens new vulnerabilities outside of fire and water alone. During a fire on a property – smoke travels in all free spaces of the building. Like water – it flows through tight spaces, ventilation, and any open rooms with oxygen. Thus the smoke sticks to every surface it touches – causing permanent smoke and odor damage.
You can't use any conventional cleaning agent to rid smoke and odor from fire damage. Our fire damage experts are equipped with the right tools and techniques to eliminate all traces of disaster. You risk damaging your property more by using the wrong cleaning agents to worsen surface stains from smoke.
The 911 Restoration of West Wyoming also uses eco-friendly cleaning agents safe yet effective for the environment.
Bonus Tips How To Prevent Fires
While accidental fires happen – here are some tips to decrease the risk of preventing fires in your residential or commercial property.
Install and test smoke detectors to make sure they operate correctly
Never leave candles or lights unattended for long periods
Avoid overloading electric power strips
Perform regular cord inspections for your appliances
Get a Fresh Start With Fire Damage Restoration Services
Experiencing fire damage opens headaches more than the only fire itself. That's why the 911 Restoration of West Wyoming offers a variety of restoration services outside fire damage restoration.
Water damage restoration
Sanitization & disinfection
Residential & commercial property damage
We understand how frustrating it can be when dealing with a disaster on your property. We value empathy and support with every customer we work with. While the damage to your property may seem devastating at the moment – it doesn't have to be. Because when you work with us as your next fire damage company – we'll get you the Fresh Start you deserve.
Give us a call today for any questions regarding fire damage restoration services in West Wyoming.