Mold Removal in West Wyoming – Jackson, Star Valley, & Afton, WY
The rainy seasons in West Wyoming, Idaho open inevitable problems to property and commercial business owners. Residents in places like Jackson, Star Valley, Afton are prone to mold issues after rainfall, flood, or water damage and need removal.
You can rely on 911 Restoration Utah of West Wyoming as your service provider for mold removal & remediation. It's a growing problem that won't stop as long as there is moisture in the air.
Some signs of mold on walls include bad odor, discoloration, and personal health symptoms like respiratory issues. What's even more troublesome is mold can be hard to detect. It makes its way into the slightest cracks, hard-to-find areas, and places you wouldn't think of. This is why we don't recommend trying to be a hero of removing mold growth on your own.
And mold damage is more likely to occur right after water damages like pipe bursts, flooding, or water damage leaking.
When you work with our West Wyoming mold experts – they will quickly assist you throughout the mold removal process. Our experienced techs know how difficult mold can be to deal with. They will offer help with:
Professional mold cleanup for your residential or commercial properties
Thorough mold inspection to make sure nothing gets missed
Mold decontamination and odor removal services that stem from mold growth
Dehumidification tactics to stop the growth of mold
Eradication of potential items prone to mold vulnerabilities
We don't advise you to take care of mold removal yourself. You risk the potential of missing unseen areas causing your mold removal costs to go up in the future. Have rest assured with our knowledgeable mold experts from 911 Restoration of West Wyoming.
We guarantee you a Fresh Start you deserve with customer service, reliability, and fast results. Because we know mold growth can be a frustrating time. But it doesn't have to be when you work with us as your mold removal company.
Get your Mold Inspection & Removal in West Wyoming – Jackson, Star Valley, & Afton Now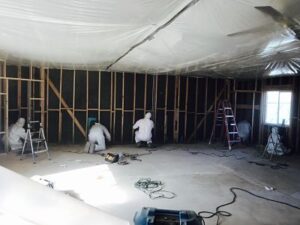 What's the scary part of mold growth? The signs of mold growth aren't always visible to the naked eye or evident to the nose. It's why we recommend getting a mold inspection even if you think you don't mold growth.
Something you can't see can cause serious health issues like dizziness, headaches, asthma, and lung infection. Act now before it's too late before you deal with bigger problems.
If you were to continue living your life not knowing you have mold in your property presents a scary risk. Not only are you threatening your health, the ones around you, but your financial situation. Because when you act quicker on mold removal – the lower the mold damage and mold inspection costs you will incur. You'll be doing more harm to yourself by believing you don't see mold growth on walls as a sign to ignore.
Our mold experts in Pocatello and surrounding areas pinpoint the source of the problem for mold removal. Common issues that start mold growth include:
Water damage from pipe damage
Leaking walls
Ceiling Leaks
Rooms with high moisture content
We believe in a Fresh Start living in West Wyoming, Jackson, Star Valley, and Afton. And it begins with a thorough mold inspection to your residential or commercial property restoration.
After our mold experts determine the source of the mold, you're on your way to a property in perfect shape. Our team is prepared with top-notch equipment to remove all sources of mold.
Get a Fresh Start With Mold Removal Services
The damp and wet months in the rainy seasons in Jackson, Star Valley, & Afton don't have to be a drag with mold growth. When you leave it with the mold specialists of 911 Restoration of West Wyoming – you'll have peace of mind.
Our IICRC-certified staff will work with you to remove your mold in the house until it's clear.
We isolate and eradicate all mold by using only industrial-grade antifungal chemicals
We'll be at the scene of mold damage within the first 45 minutes of your initial call
We have your back for mold removal 24/7/365 days a year.
You and your property always come first when it comes to mold removal
Mold in the house can be a daunting experience to deal with – we get it. With years of experience in the industry – you can rely on us as your Idaho Falls mold removal company.
So protect yourself, your loved ones, and your future from mold growth. When you call 911 Restoration of West Wyoming – you'll be on your way to a Fresh Start. Guaranteed.
Serving the communities of Star Valley, Jackson, Afton and surrounding area.