Disaster Restoration in West Wyoming – Jackson, Star Valley, & Afton, WY
The truth is disasters happen at any time when you least expect them. Floods, storms, tornadoes, hail, or earthquakes aren't forgiving when it comes to time. This is why we're a disaster restoration & cleanup company proud to stand by our 45-minute guarantee in West Wyoming. Our IICRC-certified technicians have your back 24/7/365 days a year to take care of your disaster restoration needs.
We understand your greatest and most expensive assets are at stake in Jackson, Star Valley, & Afton, WY. And we put in the same amount of hard work you put into earning your assets. While disasters are a headache to deal with – we believe the disaster cleanup process should be painless and hassle-free. Because you're deserving of a Fresh Start.
There isn't a one-size-fits-all when it comes to disasters. And the damage done from misfortunes can easily translate into bigger problems. Like fire damage resulting in a flooded basement from extinguishing the flames. That's why the team at 911 Restoration of West Wyoming offers a variety of disaster restoration services like:
Water damage restoration
Fire damage & smoke removal
Sanitization & disinfectant services
A disaster shouldn't have to stop you from moving forward. Our experienced technicians are equipped with the best tools, knowledge, and resources to put your fires out. This ensures you leave us with a Fresh Start.
We've helped thousands of
Disaster Restoration Experts in West Wyoming At Your Service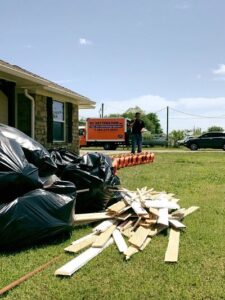 To get your property back to the normal state it was originally in – you'll need to contain corrective protocols first. By doing so will stop the sources of the problem from worsening. Turning off the water will stop a pipe burst and the fire department will cease a burning fire. Then we can assess your disaster cleanup after containment measures are put into place.
Our goal is to restore your property with a Fresh Start. And we're able to do this with proper timing, reliability, and high-quality professional service.
When you work with our disaster cleanup experts – they will begin with a thorough inspection of the property. This helps ensure nothing gets missed along with a full understanding of damages. You'll then receive an estimate for us to begin working on your disaster cleanup restoration process with fast service.
Does Your Insurance Cover Disaster Restoration in Pocatello?
You're likely wondering if our top-notch disaster restoration services are covered by your insurance provider. Our friendly specialists are here to help and answer all your questions regarding your insurance coverage.
First – we'll arrive at your property in Jackson, Star Valley, or Afton, WY at no cost to begin the inspection process. You'll then begin with a free visual assessment of your property so we can understand your circumstance. Your free quote will provide your options so you can have the choice to make the best decision.
If you would like to move forward with our disaster restoration service – our staff will go over your insurance coverage. They will also make sure you get the best service you deserve that fits your needs. They'll guide you through the complete process for inventory and loss itemization.
Alongside filling out paperwork and filing a claim on your behalf. They will even do the billing directly to your insurance company so you don't have to worry.
It's our goal to make the disaster restoration process as easy on your end as much as possible.
Disaster Restoration With a Fresh Start
911 Restoration Utah serves properties and the people behind them. That means we put you and your needs first by offering more and just a disaster cleanup service. With empathy – we understand how heartbreaking a disaster can negatively impact a person's life. That's why our disaster restoration specialists provide support, guidance, fast solutions, and peace of mind for a Fresh Start.
We're here to answer all your questions or confusion upfront when you give us a call. And when in doubt – we'll send a disaster restoration specialist to your property as a complimentary service to inspect damages. The specialist will guide and present practical solutions on helping you achieve a safe and clean space.
No hard sells. No curveballs. No surprises. We only want you to hit the ground running to rebuild your life as soon as possible.
So no matter how damaged your property is or terrible your situation may feel – know you're not alone. We have your back until your property is brand new.
You're only one call and less than 45 minutes away from a Fresh Start.
Call 911 Restoration of West Wyoming today for your disaster restoration cleanup in Jackson, Star Valley, & Afton, WY!
Serving the communities of Star Valley, Jackson, Afton and surrounding area.